2016/2017
Reunion party 2016
We were very grateful once again to Strikes for donating a session in Planet Zoom for our reunion party. All the children who have attended the LIFT in the past four years were invited and 22 were able to make it, with their families. All had a lovely time renewing friendships, both children and parents. We were so pleased to see how confident and talkative the children have become and it was lovely to hear how well they are settled in their home schools. Click here to see the photographs.
Commotion in the Ocean 26.05.16
Our topic this term is 'Salty Sea'. The children have been busy learning some poetry from 'Commotion in the Ocean'. They performed this for their parents and other guests on our Open Afternoon. They were amazing.
Their parents then joined them to play a range of games with an undersea theme. Click here to view the photographs.
Visiting Jenson's Garden in Terrington St Clement 22.03.16
After an early lunch we left school in the minibus at 1pm to go to Jenson's garden. Once there we planted lots of different seeds.
In straight rows in the raised beds in the poly tunnel we planted carrots, parsnips, onions, radishes and dwarf French beans. In the seed trays we planted purple sprouting broccoli. We filled pots and planted pumpkins and corn on the cob. We then filled hanging baskets and planted cut and come again lettuce. We planted some seed potatoes in the garden.
We talked about what would happen to the seeds and the children decided they would need to be watered and have some sunlight and then they would grow. They watered the seeds carefully.
Jenson's poly tunnel had lots of strawberry plants but no fruit yet and when we looked in the fruit cage the raspberries were only just coming into leaf – hopefully there will be strawberries and raspberries to eat next time we come!
There are lots of fruit trees in the garden: plum, cherry, apple (eaters and cookers) and pear. They do not have any leaves on yet, but we did find lots of buds.
After a busy afternoon we went back to school in the minibus. Click here to see the photographs.
Open afternoon – Easter crafts
We invited parents and new children to join us for the afternoon on Thursday 17th March. We are learning about Easter and the symbols that we associate with this time of the year. We are focussing on the egg so used different craft techniques to decorate eggs. We made colourful hanging eggs for windows, using torn strips of tissue paper for the light to shine through. We also printed patterns on cut out eggs using pom-poms dipped in different coloured paint. Finally we crumpled small pieces of tissue paper and used this to fill shapes on cut out eggs. At the end of the afternoon the children chose books to share with their parents or grandmas.
Click here to see the photographs.
World Book Day
We looked closely at an illustration from 'Man on the Moon' by Simon Bartrum and discussed some of the interesting things to see in the picture. Later we shared the story. Some of us dressed up as 'Bob' – the man who goes to work each day on the moon.
Some of the children were dressed as different book characters. They brought books in about their characters and we shared the stories.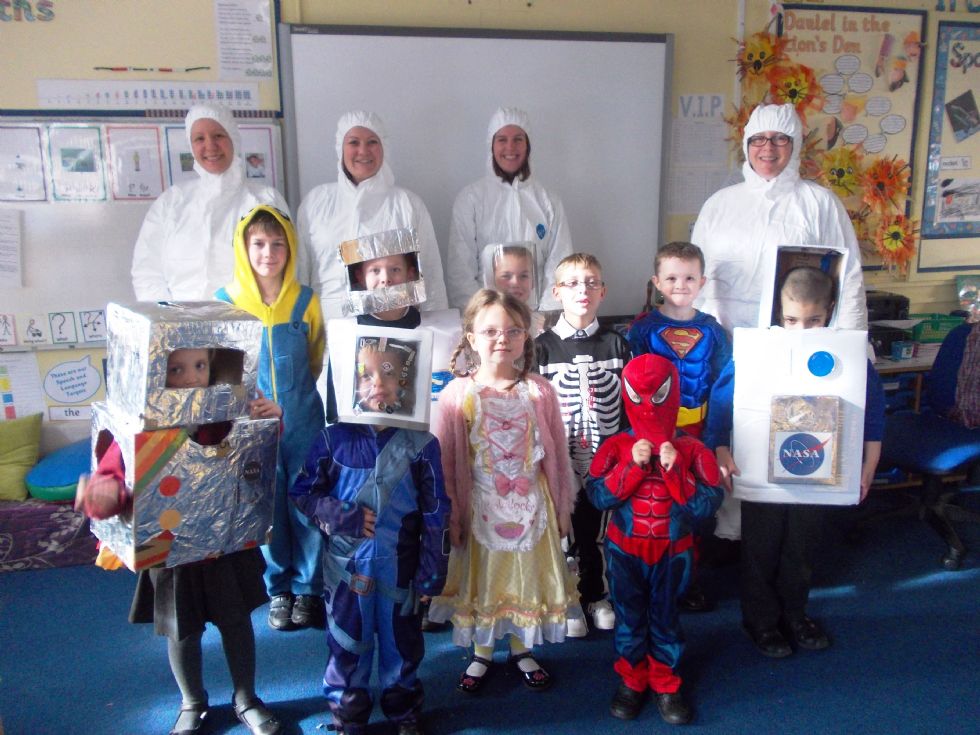 Seasons
For our mini-topic about the 'Seasons', the children began by discussing which season they thought a range of objects and pictures belonged in. They then worked with their friends to sort the objects and pictures and explain their reasoning. Next, they worked hard to learn the sequences for the seasons by writing a programme to make the BeeBot visit a label for each season in the correct order. Every day they practised using oil pastels and worked extremely hard to produce a pastel picture of a tree representing the four seasons in order. They took this home as a calendar for their parents. By the end of the time the children were much more confident to talk about the seasons and could suggest what the weather might be like as well as what might happen at that time of the year. Click here to see the photographs.
Space Explores
For our topic on 'Space Explorers', the children brought in the space suits they had made for their homework project. We read the story 'Whatever Next' and then found out that Baby Bear was stuck on the moon! We had to design and build a space rocket to go to the rescue. At the end of the day we 'landed', climbed down the ladder to the 'lunar surface' and watched footage from the Apollo 11 landing showing the first man on the moon!
Our space ship has been turned into a role play area in the classroom.
The children also designed and made moon buggies. The younger children were learning to join a range of materials together and used glue sticks, sticky tape, PVA glue and the glue gun. The older children had to make sure the wheels went round. They learnt how to use split pins safely to fix the wheels on. Click here to see the photographs.
Bakery Trip
On 13th November we walked to Mr Smith's Bakery in the village to find out how bread is made. The children compared different types of flour and bread. They children saw some dough being mixed in a huge mixer! Mr Smith showed the children how to knead dough and make a cottage loaf. We all made one to bring back to school. Mr Smith also gave everyone a chocolate cookie J We had a lovely time and found it very informative. Click here to see lots of photographs.
National Poetry Day
For National Poetry Day the theme was LIGHT. The children in the LIFT created a poem about 'G for Gravity'. First, we flew balloons and bubbles and discussed how they moved. The children talked with their partners about what they saw, and then described it to the class. They worked in groups to suggest words for our poem, which they to each other on paper aeroplanes. Once everyone had thought of a word, we worked as a class to order them and make our poem.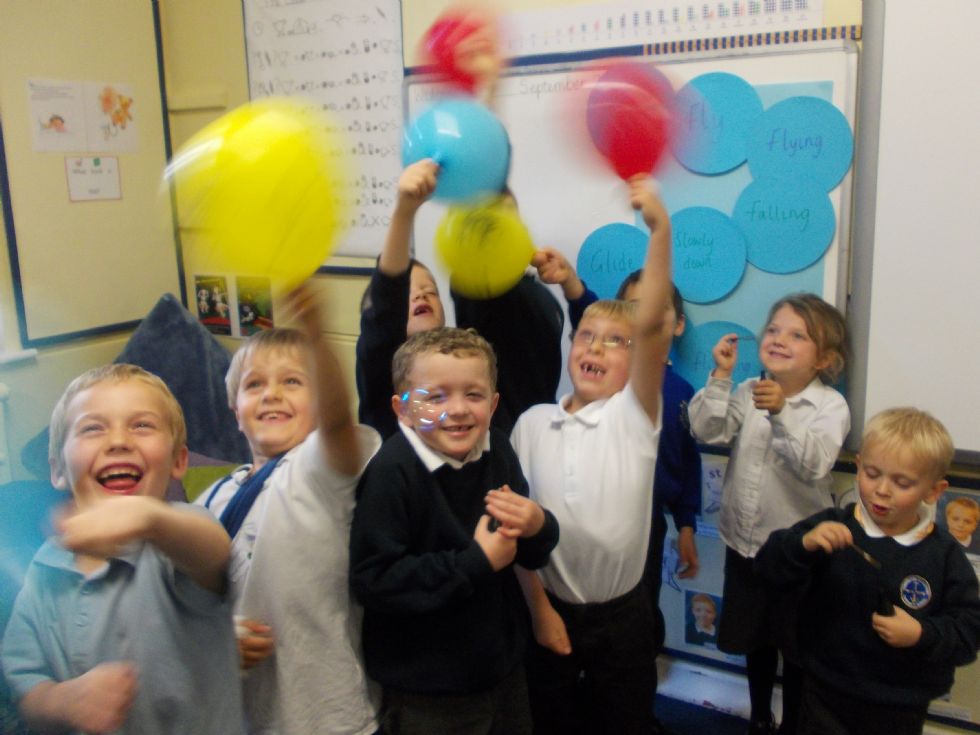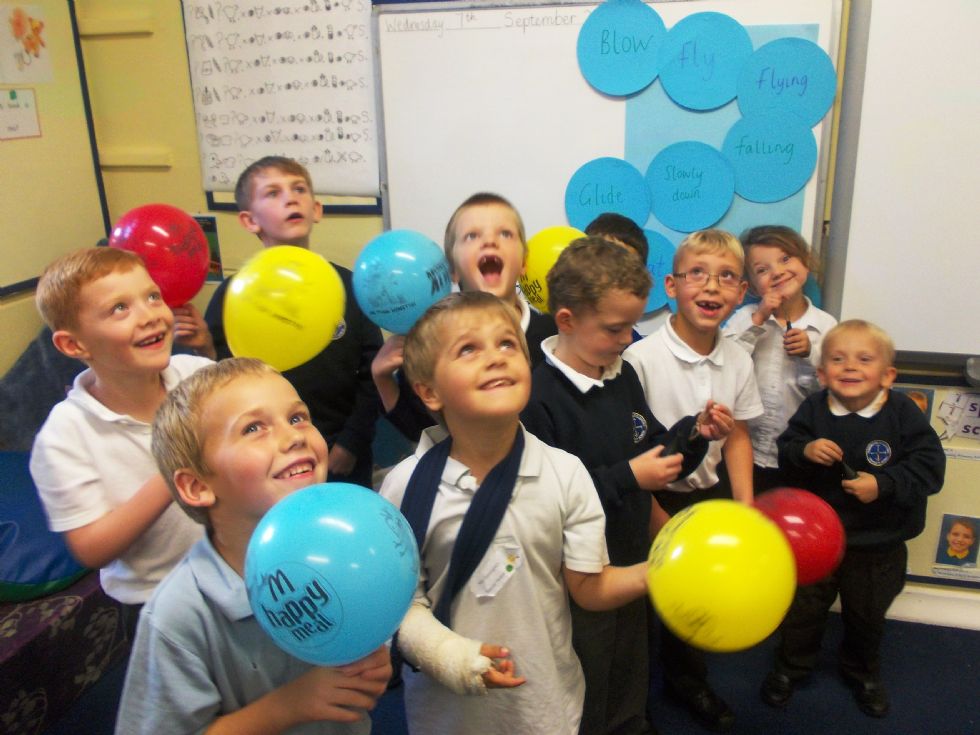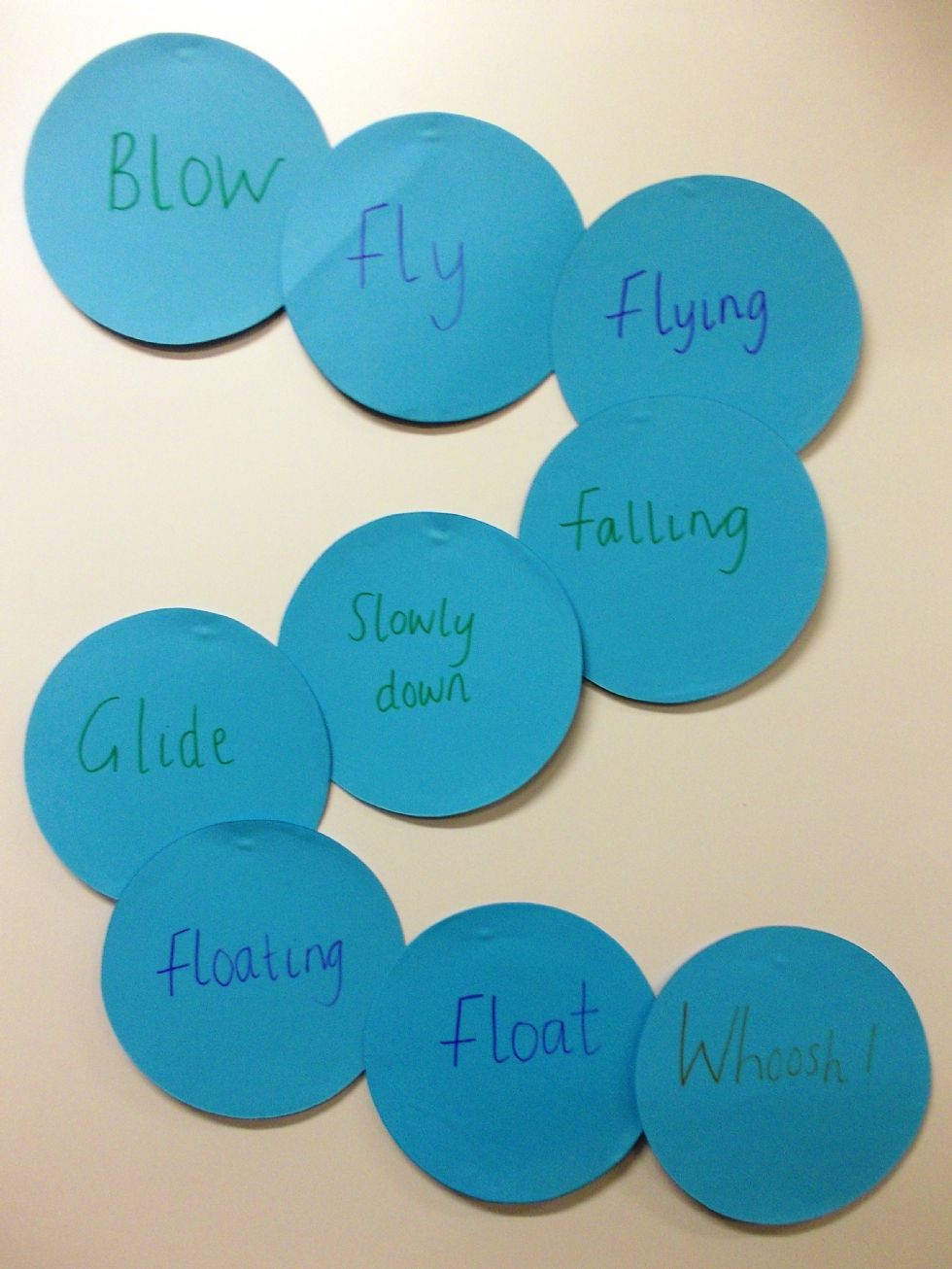 Leavers Party
On Friday 17th July we had a party in the afternoon to say goodbye to our leavers. The children chose to play Duck, Duck, Goose then we had a picnic. When we went back to class they played Musical Chairs. Click here to see the photographs.
Sandringham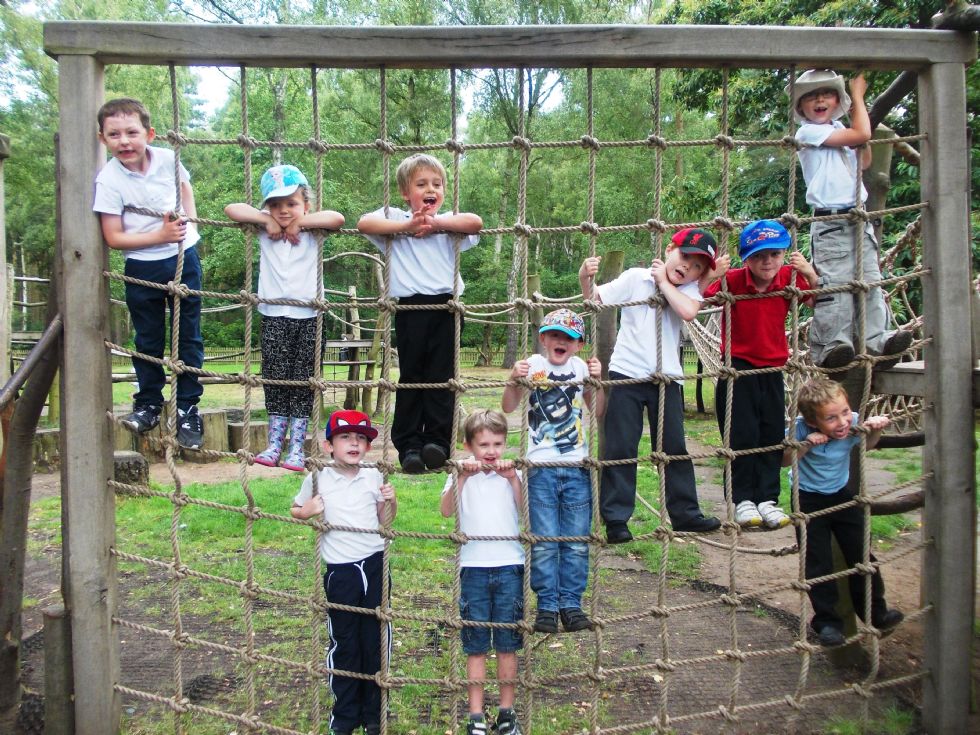 On Friday 17th July we went to Sandringham to explore the woods and hunt for minibeasts. We looked under logs, on trees and on branches. We were very brave as we climbed and balanced on the play equipment. Click here to see the other photographs.
Reunion Party
On Thursday 16th July we held a reunion party for our pupils and their families: old, current and new. We would like to thank Strikes of Gaywood, who very kindly allowed us to use their facilities free of charge. The children bowled first then had some fun in Planet Zoom. Click here to see some photographs.
Open Afternoon
On Tuesday 14th July we held an Open Afternoon and invited parents in to work with their children. They made minibeasts pictures (messy!) and learnt to programme the BeeBots. Click here to see more photographs.
Mini-beast Hunt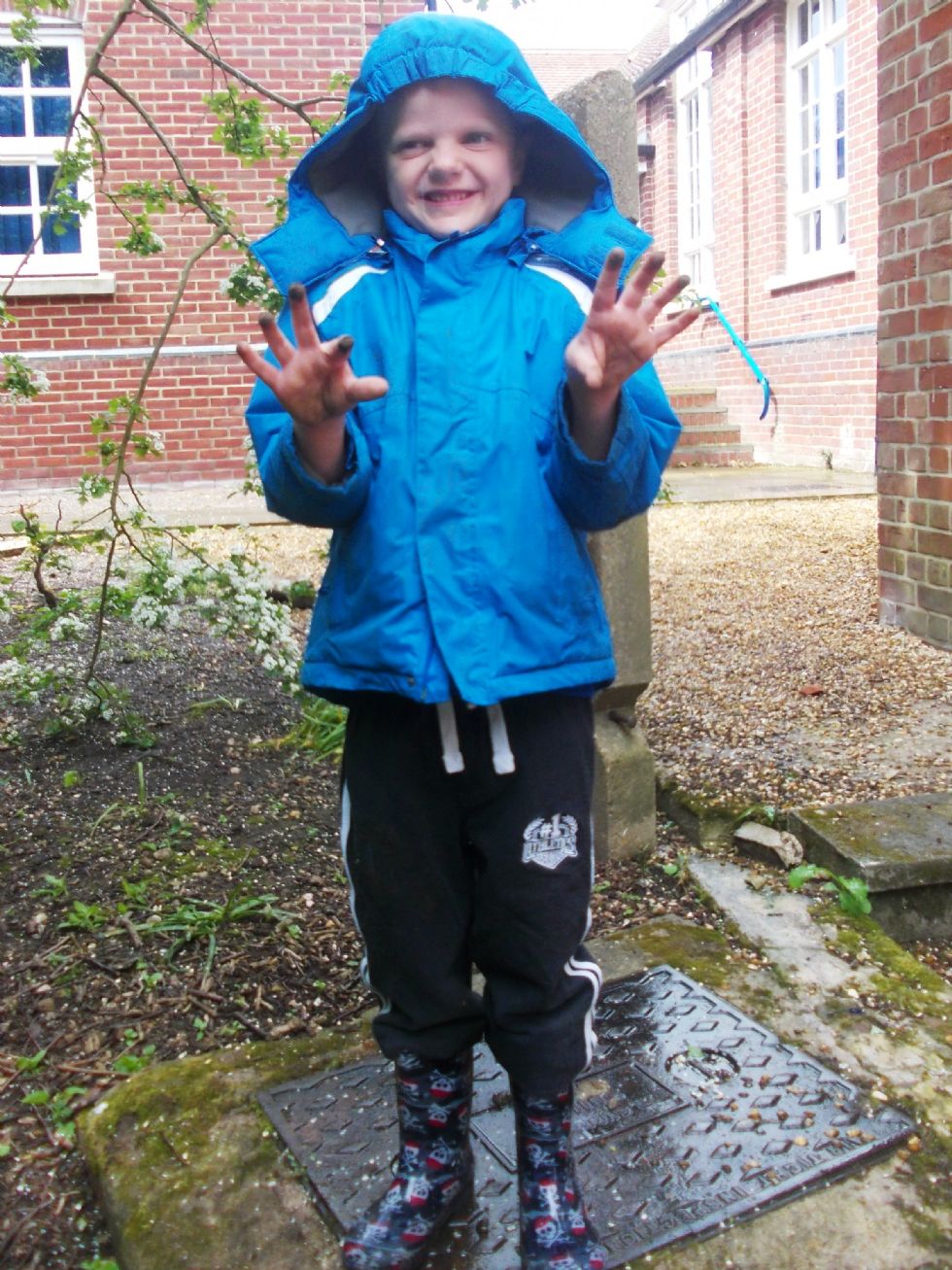 We explored the wildlife area looking for mini-beasts. We looked in the 'Bug Hotel' then we looked underneath things such as logs, stones and pots. We found worms, centipedes, millipedes, spiders, snails, slugs and woodlice. Click here to see more photographs.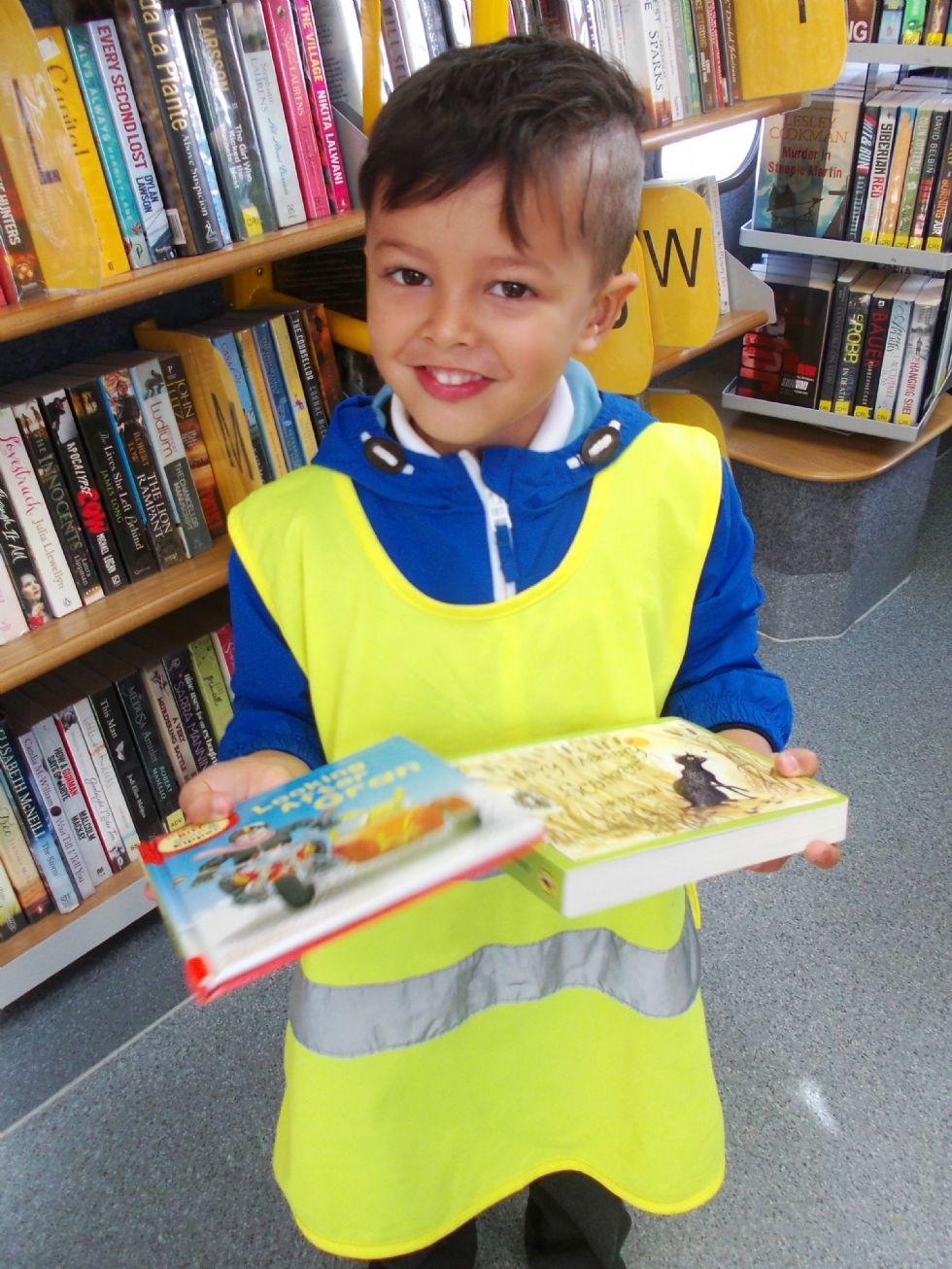 Library Van
Once a month we take the children to visit the library van. They love to choose their own books to take back to read in class.
We have to cross the road so this also gives us an opportunity to talk about road safety with the children. Click here to see some more of the photographs.