5KB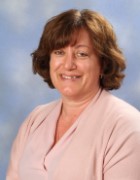 Welcome to 5KB. Our teacher is Mrs Boulding.
Click here to see the Bollywood photographs.
In Y5 this year our teaching assistants are Mrs Fuller and Mrs Barnes who work in both classes.
Year 5 have been learning about the Sikh religion this term and were lucky enough to be visited by Sheila Kaur, who is a Sikh.
The children had already learned about the 5Ks and Vaisakhi and came up with questions of their own they would like to ask our visitor.
Sheila answered the questions they had prepared and then demonstrated how Sikhs enter the Gurdwara ( temple) and pray. The children took their shoes off; the girls covered their heads and knelt in front of the Guru Granth Sahib (Holy Book). Boys and girls have to sit on different sides of the temple. We looked at Indian dress and jewellery and learnt more about modern day Sikhs.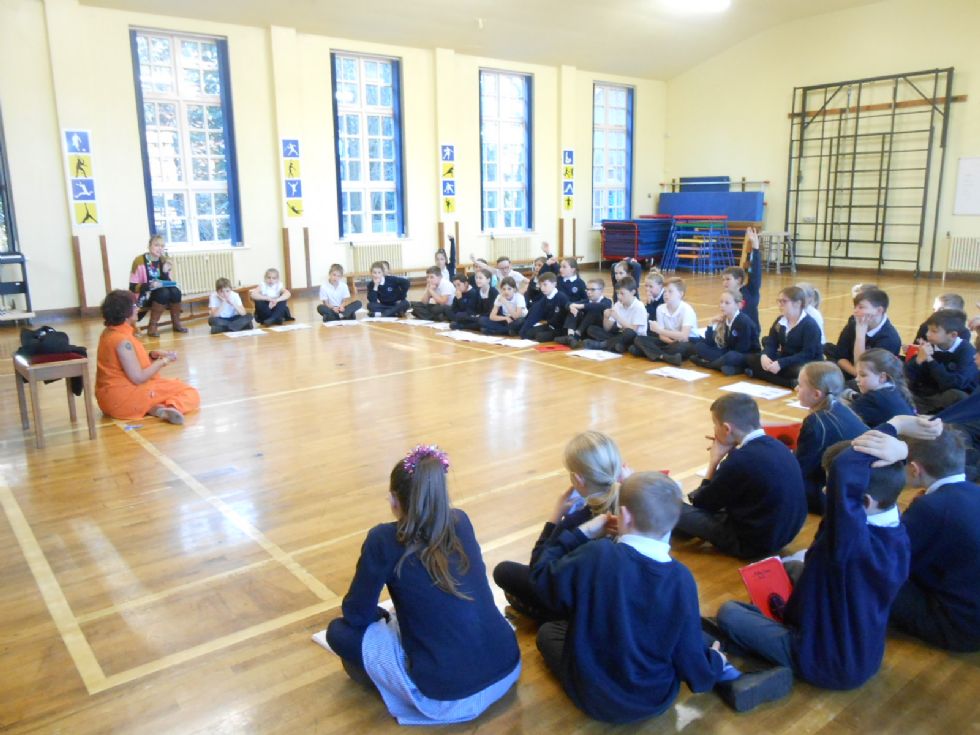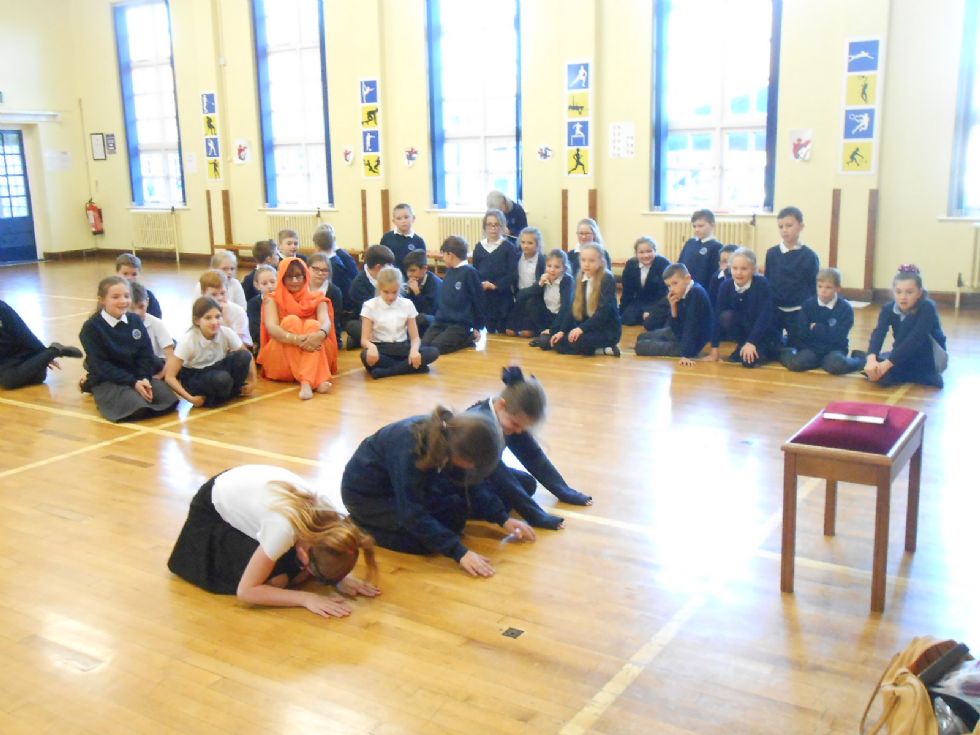 "It doesn't matter what religion you are, it only matters who you are"
"I learnt that Christianity and Sikhism are similar"
"Ladies are very colourful"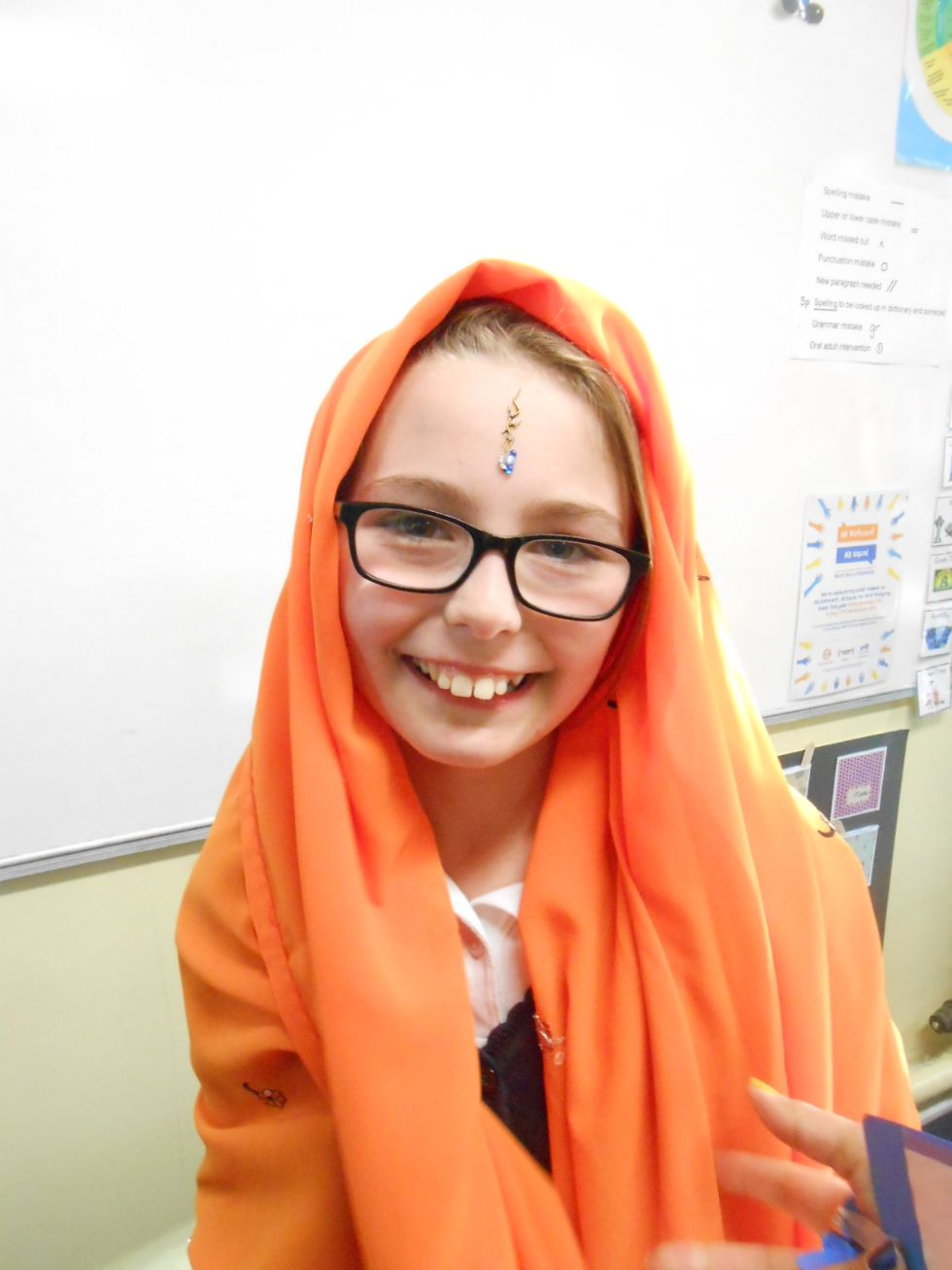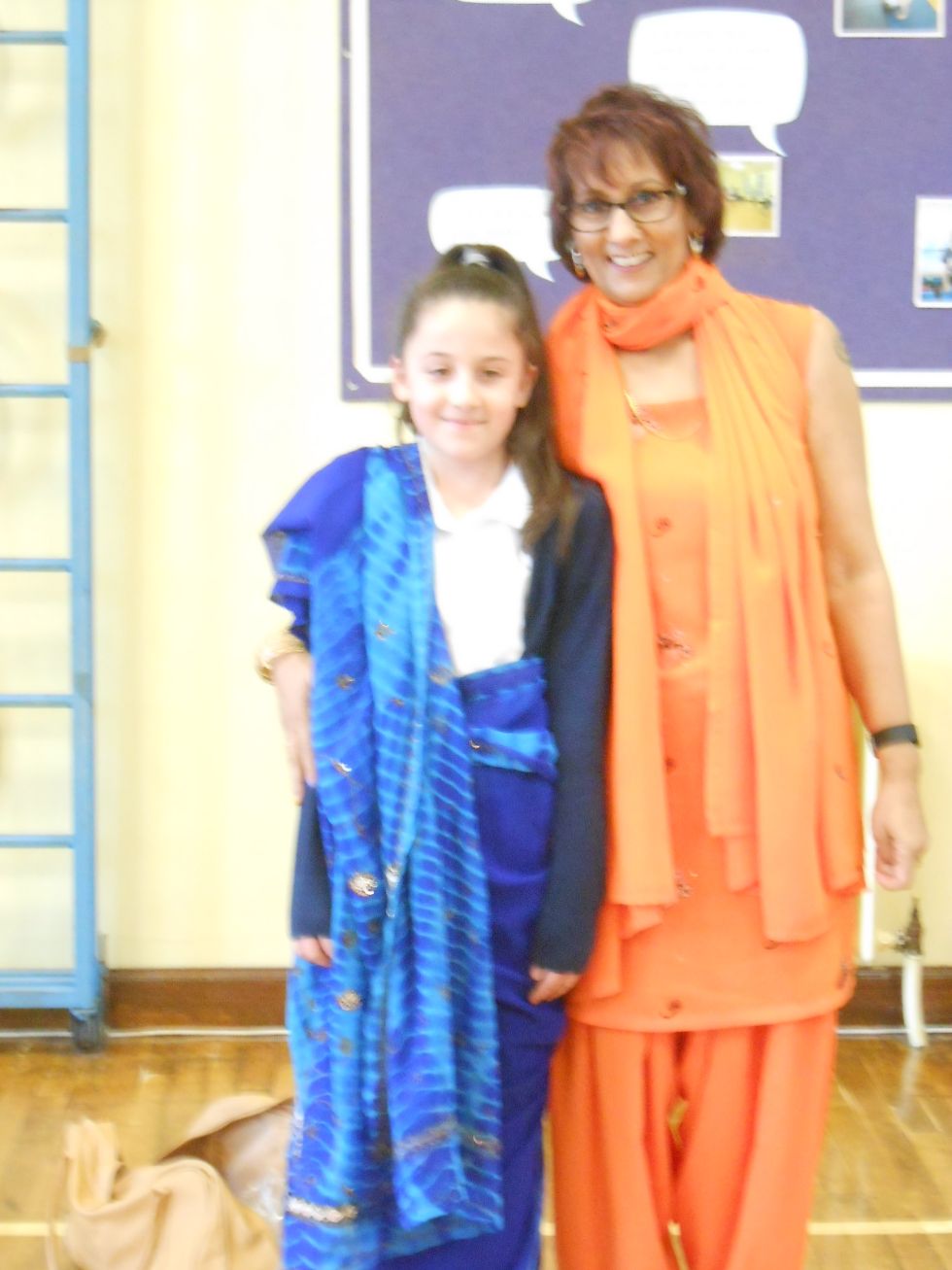 Autumn Term
Our topic this term is 'Earth and Space'.
Writing
Over the course of this term, our lessons will target different areas of writing, including the effective description of characters and settings; building up a broad range of powerful vocabulary (such as adjectives, verbs, adverbs and expanded noun phrases); securing their use of the basic punctuation, as well as introducing them to more complex ones (parenthesis, colons and semicolons). We aim to cover many text types over autumn term, including narrative and balanced arguments, through the use of various stimuli, such as our class novel, pictures and videos.
Reading
Four days a week, your child will be participating in our whole school reading scheme, 'Bug Club'. This will see them either working as part of a guided reading group with Miss Newell, or building on their reading comprehension skills by working in a group to answer various types of questions (similar to SATs questions) about different books they're reading. They will work through a different book every half term. They will also be given many opportunities, during the week, to independently read books that they have chosen and have shown an interest in. If the children are not enjoying a book, they are encouraged to look at others until they find one that they will engage with. It is expected that they keep logging their reading and answering questions in their Reading Diaries both at school and at home. This is a different system to year 4, and was explained to the children during the first week back.
Maths
The main aim in maths this term is to secure the children in such things as:
The place value of numbers up to 1 million, including decimals.
Reading, writing, comparing and ordering numbers up to 1 million, including decimals
The four operations and the formal written methods required
We will also begin our journey to make them ready for Year 6 and SATS by working on important areas of arithmetic, particularly building on their knowledge of fractions and decimals, along with introducing them to the concept of percentages.
Science
During this term, two science topics will be covered: Earth and Space, and Light and Sound. Not only will they build on their scientific knowledge, but there will be several lessons over the course of a topic that will have a large focus on practical enquiry and investigation.
PE
The topic for PE during the first half of autumn term is Invasion Games.
5GN will be having weekly hockey lessons with Mrs Wassell every Thursday. Their second weekly PE lesson will be either netball with Miss Newell on a Monday afternoon, or Tag Rugby with Sam Loomes on a Friday morning (this will happen for 3 weeks starting from the week beginning the 18th September until the week beginning the 2nd October).
Geography
The children will learn all about the significance of the longitude, latitude and the prime meridian (and how it links in with time zones). Science links will be made when they learn about how the Earth's position affects day and night, day length and the seasons. Map skills will also be covered this term. We will also be introducing them to Ordnance survey maps, along with learning about 4 and 6-figure grid references when studying various kinds of maps (world and local).
The second half of autumn term will be a large enquiry project all about a world issue, such as deforestation, land pollution and the pollution of our oceans. This is going to be an independent paired/small group project which will see them create their own question (line of enquiry), conduct extensive research on their question, and finally create an engaging presentation to share their findings and answer their question.
Design Technology
Over the course of the autumn term, the children will be working towards creating their very own light boxes! Links will be made with history (researching the history of electricity and lighting) and science (investigating which materials suit best in making a light box, and which wouldn't).
Computing
During the first half of autumn term, the focus will be on E-Safety and being cyber smart and a good online citizen. In the second half, computing will be linked with Geography lessons, where they will be learning to use the internet effectively to conduct research.
Music
5GN are having weekly percussion lessons with Mr Judd every Monday afternoon.
RE
RE will be covered blocks this term. We will be answering Big Questions such as 'Good or Bad – who decides?' and 'If God is real…?' while studying two of the main world religions: Islam and Christianity. Links will be made with computing, PSHE, art and literacy.
Modern Foreign Languages (French)
Our focus in French lessons will be 'All about ourselves'. We will be targeting their oral and written skills through such lessons on what they look like, clothing and the body.
If you need any help with maths, take a look at the following Youtube clips. They may help:
Identifying multiples, common multiples and lowest common multiples – TSC Year 5
https://www.youtube.com/watch?v=BbNp1rFQ2T0
Identifying factors - TSC Year 5
https://www.youtube.com/watch?v=nPOgZhrvZow&t=1s
Identifying common factors and highest common factors - TSC Year5 https://www.youtube.com/watch?v=hbOcIAW_h6k
Identifying prime-numbers – TSC Year 5
https://www.youtube.com/watch?v=0PgiZbmfB3E
Short division – no remainder – TSC Year 5
https://www.youtube.com/watch?v=VewosqnBUAk
Short division – remainder as a fraction – TSC Year 5
https://www.youtube.com/watch?v=DYSNSuse1p4
Short division – remainder as a decimal – TSC Year 5
https://www.youtube.com/watch?v=DYSNSuse1p4
How to use apostrophes for possession – TSC Year 5 – Mr. Denny
https://www.youtube.com/watch?v=LyKE__L-qsU
How to use apostrophes - by Jay Stewart (Cartoon demonstration)
https://www.youtube.com/watch?v=HOtMa2JyfXk&t=1s
Should I use 'me' or 'I'?
I went shopping.
We went shopping.
Mrs Boulding and I went shopping.
Miss Newell needs to give me more homework.
Miss Newell needs to give us more homework.
Miss Newell needs to give Paul and me more homework.
'___ and I' versus '__ and me' grammar – Charlie McFadyen: