Attendance
Our school target for attendance is 97.5%.
Good attendance throughout the school year is vital to your child's education and various studies have confirmed this.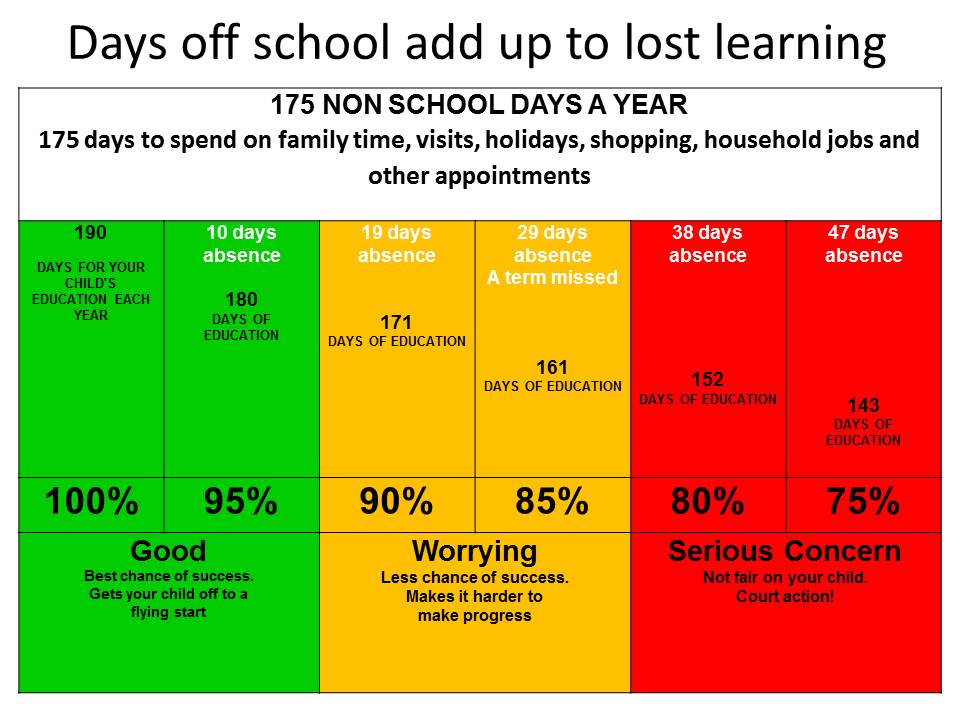 We reward good attendance in the following ways:
A roll of honour booklet goes out in January and after Easter naming children who have achieved 100% and children who achieved the school target and over.
Children with 100% attendance will receive a gold certificate at the end of the school year.
A draw for every child who has achieved above the school target, will take place on the last day of the summer term and whoever is pulled out will receive a voucher for a family meal.
We do not authorise any holidays in term time and holidays taken will be marked as unauthorised.
As well as looking at good attendance we also look regularly at poor attendance.
We monitor this in the following ways:
If your child needs lots of medical appointments, we ask you to show the office staff the appointments cards so a copy can be put on file.
Letters are sent out to families who are currently under 96% attendance and to families who are 'at risk' of falling into this category.
The Attendance Team will become involved if the situation does not improve.
Our school's attendance policy can be viewed on the General Policies Page in the Policies Section of this website.