LIFT (SLCN SRB)
Ofsted Februry 2018 said:

The speech and language therapist provides an intensive programme for trained staff to follow. As a result, these pupils make good and better progress in the development of their language skills.

The pupils in the specialist resource base behaved well throughout the day and showed appropriate table manners. Quality home-school diaries ensure that parents are kept informed about their child's development. Pupils showed good concentration and were enthralled when watching an exciting video clip to improve their language and phonics skills. Governors monitor this provision rigorously to ensure that the local authority funding is spent effectively.
Welcome to the LIFT. Our teacher is Mrs Gascoyne. Mrs Archer and Mrs Sahin are the Specialist Teaching Assistants. Mrs Meeham and Miss Jarvis are our speech therapists.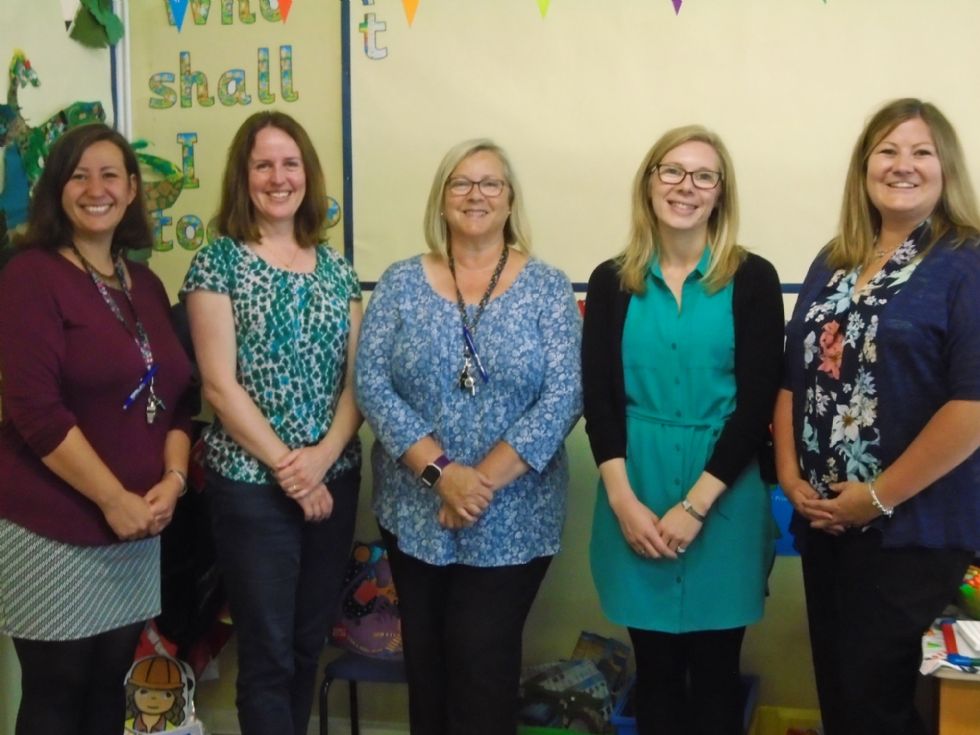 From left to right :-Mrs Sahin, Mrs Meehan, Mrs Gascoyne, Miss Jarvis and Mrs Archer
LIFT stands for Language Integrated Facility at Terrington. We provide a specialist resource base (SRB) for Reception and KS1 children whose main difficulty is speech/language based.
Our children have severe difficulties with speech sounds and/or expressive language (using sentences). Usually unintelligible on entry, their understanding is appropriate for their age and they are able to make accelerated progress with intensive therapy.
Applications are made by the child's school following a recommendation from a speech and language therapist. Applications are then discussed at a Local Authority Panel and places allocated by the local authority. Please see the Norfolk County Council website for more information on the pupil profile and admission procedure.

The children spend every Monday in their home school and Tuesday, Wednesday, Thursday and Friday in the SRB.
We are very fortunate to have the services of a speech and language therapist, Karen Meehan and Harriet Jarvis, funded by the Health Service. They each spend two mornings a week with us, supporting the children with specialist language support and making sure our resource base staff are trained to follow up on the exercises she has been dong with the children on the other days.
To view our local offer, visit our SEND & Nurture Pages in the Key Information Section of this website.