PE and Sports Events 2018 - 2019
At the bottom of this page is the presentation from the Sports Presentation evening.
Events and competitions results and information will appear on this page.
Sporthshall Athletics – 11th December 2018
This year's Sportshall Athletics West Norfolk competition, for year 3 and 4, took place at Lynnsport. In the competition our teams were up against 9 other school teams. The events saw children taking on various running events and jumping and throwing events. All of the children scored points for their teams in the events in which they took part. Every member of the team represented the school brilliantly and tried their best at each event they tackled.
After a hard fought competition the scores were added up and the winners announced. In the boys event our team placed 3rd overall. In the girls event our team placed 1st overall. The achievements of both teams were truly amazing. They should all be very proud of themselves. The girls will now go on to represent West Norfolk at the school games finals (a county level competition) in February.
Well done to all athletes, you were fab!
Swimming Gala - 3rd December 2018
On Monday 3rd December, we all excitedly went to St James Swimming Pool for the school cluster swimming gala.
Everyone swam so, so well and really tried their best. For the year 4 children, it was their first time competing at a swimming gala and although they were quite nervous and apprehensive, they were all fantastic. There were individual races for years 4, 5 and 6 in the front-crawl, backstroke, breaststroke and butterfly and also front-crawl relays for years 4, 5 and 6.
There was some brilliant swimming – with children really stretching out and pushing off the wall in a streamlined position. The children were very positive and supportive for each other and it was really wonderful to see their team work and kind words to each other.
There were some really close finishes and Terrington St Clement fantastically had 7 children qualify for the next round in the competition which will be in January. A huge well done to all the swimmers for their efforts and especially for their cheering and support of each other!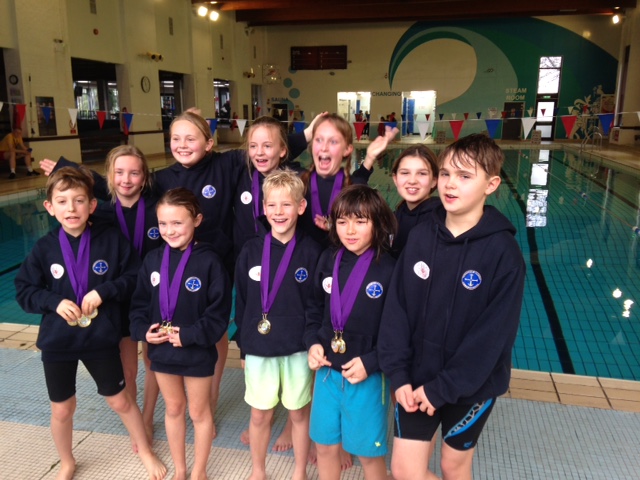 Tag Rugby – 16th November 2018
On Friday 16th November our tag rugby team competed in the West Norfolk finals, for which they had qualified after finishing second at the cluster competition. At this competition there were 12 schools involved, from all over West Norfolk. The day was breezy and chilly but dry which was good for us all! Teams played three matches in the first part of the competition but despite a valiant effort from our team they lost their first three matches. This didn't dishearten them and in the second round of games they played a further two matches, winning the first one and drawing the second. All players put in their best efforts and nobody gave up, despite the competition being very tough.
Our team ended the day 11th out of 12 but they played brilliantly and it was an achievement to reach that stage of the competition.
Tag rugby team: Daisy , Abigail , Evie , Dylan , Kenzie , McKenzie , Finley , Charlie , Pacey , Dani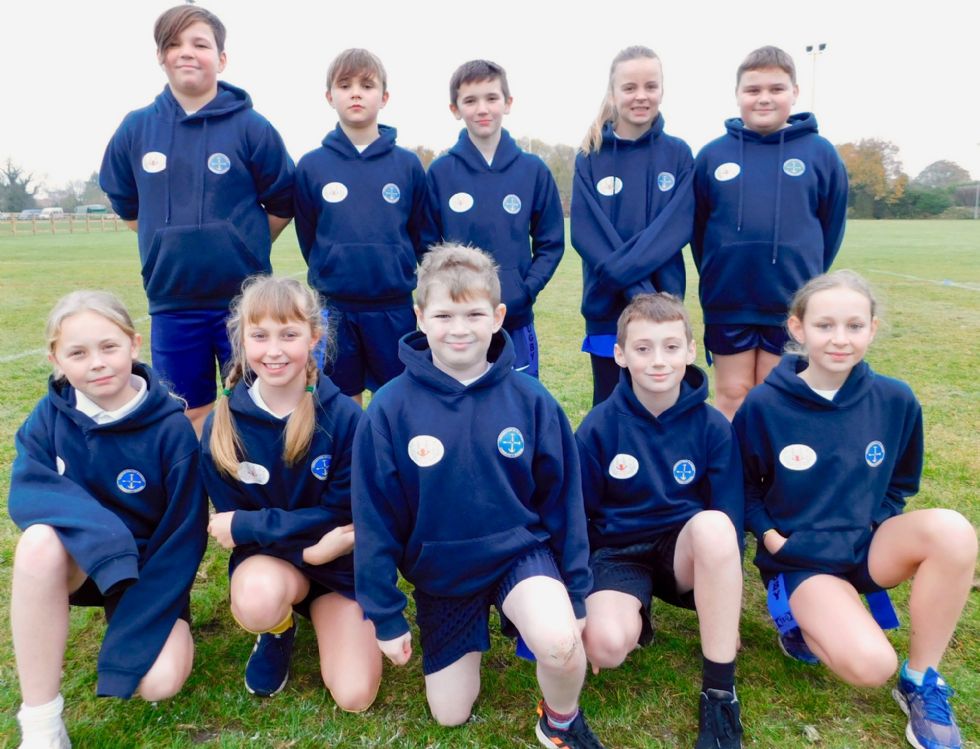 Sporthshall Athletics – 12th November 2018
This year's Sportshall Athletics cluster competition, for year 5 and 6, wasn't quiet the event we were hoping for. Unfortunately West Lynn and Clenchwarton withdrew from the event meaning we had only Walpole Cross Keys to compete against. Not put off by this our two teams, boys and girls, still gave it their all in every event and were cheering each other on like it was the Olympics! We managed to win on the day but Walpole school must be commended for the challenge they presented having only 10 children in their team, compared to our 20.
On winning this competition the teams have qualified for the West Norfolk Finals at Lynnsport on Friday December 7th when they will be up against the other winning teams.
Well done to all athletes, you were fab!
We would also like to thank Mr Osler and the High School PE team for hosting the competition and providing sports leaders to run each of the events. The event would not go ahead without their support.
Quicksticks Hockey - 12th October 2018
Friday 12th October saw the annual West Norfolk quicksticks hockey finals, held at Lynnsport. This year the competition took on a different format with their being a cup competition and a development festival. We were able to enter two teams into the cup competition, Tornadoes and Tigers and one into the development festival, Hurricanes.
In the cup competition teams were placed into four pools with each pool containing either three or four teams. They then had to play a series of games to determine their finishing positions in the morning pools. The tornadoes won all of their games in their pool topping the group and earning themselves a place in the winner's pool during the afternoon games. The Tigers managed to finish third in their group earning themselves a place in the third and fourth place pools.
During the afternoon pools the Tornadoes played another 3 games, winning two of them and losing their last game, a very tight game against Glebe House. During the competition the Tornadoes scored 32 goals and conceded only 3 (in the last game). This was an amazing achievement and saw them finishing second overall. The tigers played another four games and fought valiantly suring their games, playing well as a team.
Over in the development festival the Hurricanes were benefitting from some coaching from Pelican's hockey players meaning their games were improving as the day progressed.
All the teams did a brilliant job and represented the school perfectly. Well done to all!
Tornadoes: Jemima , Sophie , Dylan , Jack , Finley , Jennifer.
Tigers: Pacey , Kobe , Daisy , Betty , Jack B, Archie .
Hurricanes: Anita , Peter , Tristan , Jessica , Adele .
Tag Rugby – 8th October 2018
On Monday 8th October our tag rugby team took part in the cluster competition against West Lynn, Clenchwarton and Walpole Cross keys. The weather was kind as it was a warm and pleasant afternoon. During the afternoon the team played three games, they won one, drew one and lost one. Their team spirit was brilliant and they were keen to get stuck in and try to win the ball. Not only did they play superbly some of the team also volunteered to be lines people for the other games. It was a great afternoon and our team finished second, qualifying them for a place in the West Norfolk Finals on November 16th.
Tag rugby team: Daisy , Abigail , Evie , Dylan , Kenzie , McKenzie , Finley , Charlie , Pacey , Dani
Area Sports Cluster Competition
On Friday 29th June children from years 3, 4, 5 and 6 took part in the area sports athletics competition competing against children from Walpole Cross Keys, Clenchwarton and West Lynn.
At the competition there were a selection of events available for the children to compete in. the events were hurdles, sprint, endurance run, vortex throw, tennis ball throw, shot put, standing long jump and relay.
At this event children competed for first place medals and the competition was brilliant. There were some very close races and all of the children cheered on their team mates brilliantly. At the end of the event we had managed to win 22 first places, out of a possible 52. This is a terrific achievement for all those involved, including those who did not place first as they all tried their very best.
Well done athletes.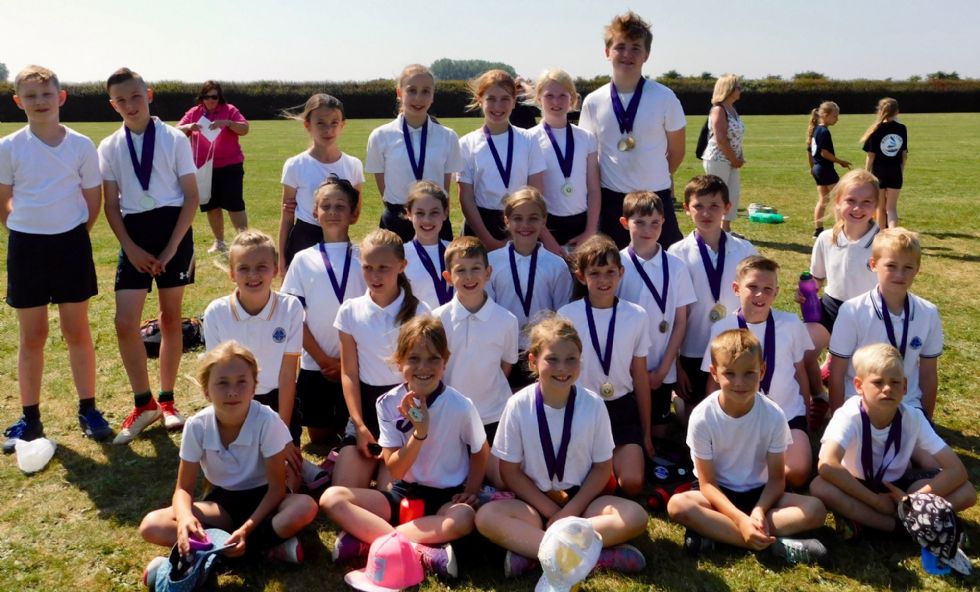 Quadkids Athletics – School Games Finals in Norwich
Following the success of the year 5 and 6 quadkids team at the West Norfolk Finals they competed in the School Games finals at the UEA Sportspark in Norwich. They earned themselves this place as champions of West Norfolk, representing West Norfolk at the event.
There were eight teams in their age group in total and the format was the same as the qualifying competition where each athlete competed in four events and scored points for their team. Again this was a very tough competition with the best teams from each Norfolk area competing. There were some valiant efforts in the events made with a notable performance from Gethyn Hunter in the vortex throw. He threw a massive 42 meters, which is an amazing achievement.
At the end of the event the scores were calculated and out team came third overall, earning themselves a bronze medal. This is an amazing result meaning they are third in the county. The medals were presented by England Commonwealth athlete Iona Lake, who the children were very impressed to meet.
Well done team for your achievements!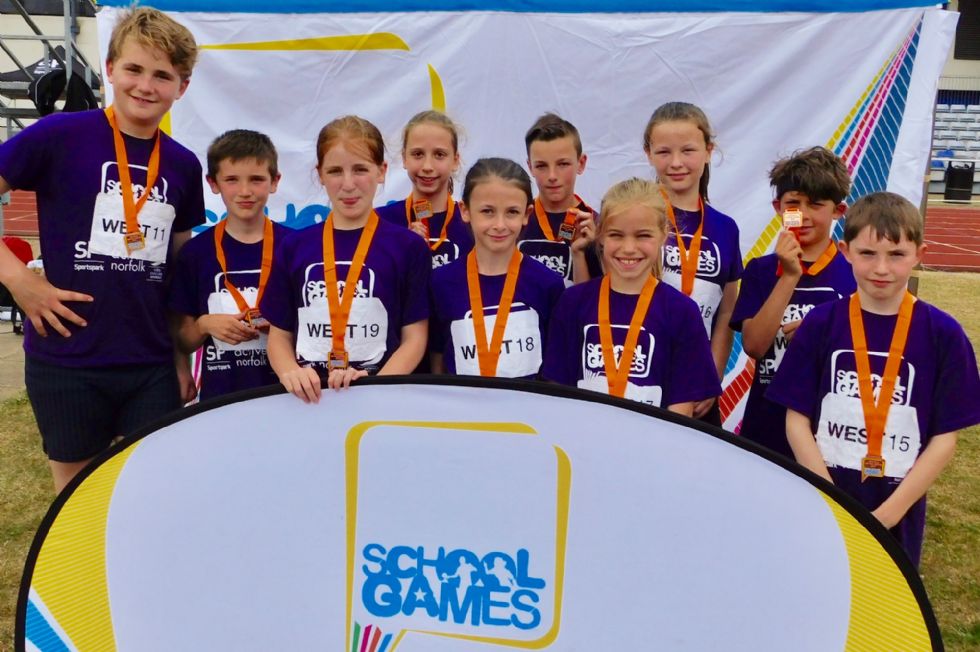 Quadkids Athletics – Year 3 and 4
On a sunny and warm Thursday afternoon a team of ten athletes from year 3 and 4 competed in the Quadkids athletics event held at KES High School. This year is the first time there has been a Quadkids event for schools. At this event the children compete as a team with each child competing in each of the four events; 75m sprint, 400m run, vortex throw and standing long jump. There was also a boys and girls relay.
Every child then scores points depending on their finishing position and these points are added together to give a team total. The competition was incredibly close with our athletes trying their best in all of the events and cheering each other on.
At the end of the event we were placed second overall out of 6 schools. The team were second by only 6 points so it shows how close the competition was.
In the team were:
James , Ethan , Kobe , William , Ollie , Sophie , Charley , Abigail , Daisy and Alisha.
Well done team for a fabulous effort!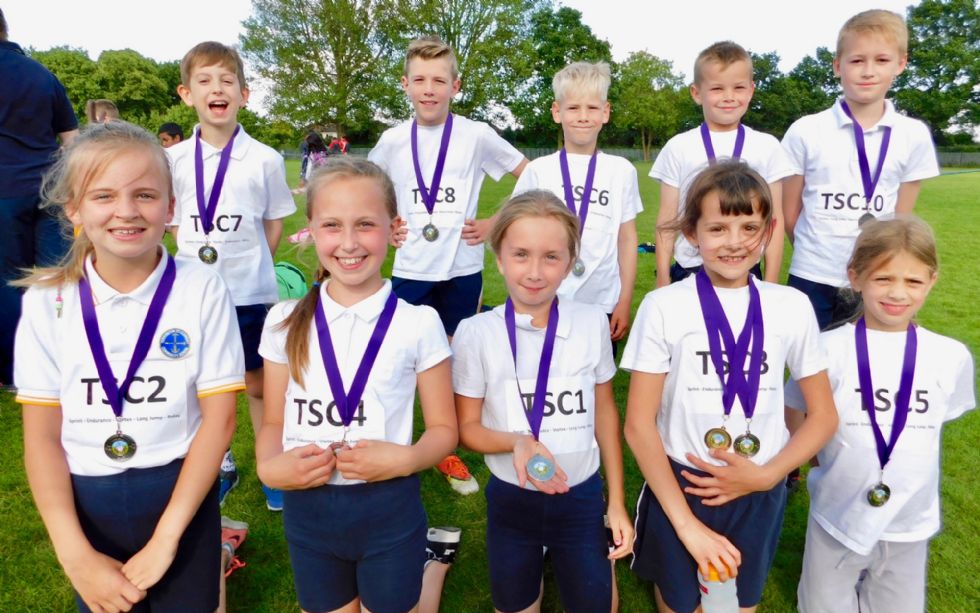 Kwik Cricket School Games Final
On Friday 22nd June our years 5 and 6 girls cricket team competed in the School Games Finals for Kwik Cricket, a county level competition. They had earned this place by coming second at the West Norfolk Finals.
There were 16 teams in total in the competition with these being split into four groups. Each team then played three matches in their group pools. Our team played well, particularly when batting and managed to win one game but lost the other two. One of the losses was particularly close and they were unfortunate not to win it.
The afternoons games were made up of new groups depending on the finishing positions from the morning. Three more games were played and again the girls won one and lost two. At the end of the competition they finished 14th but it should be noted that this is 14th in the county.
Well done girls!!
The team consisted of:
Hannah , Millie , Olivia , Keely , Sophie , Jennifer , Angel , Jemima .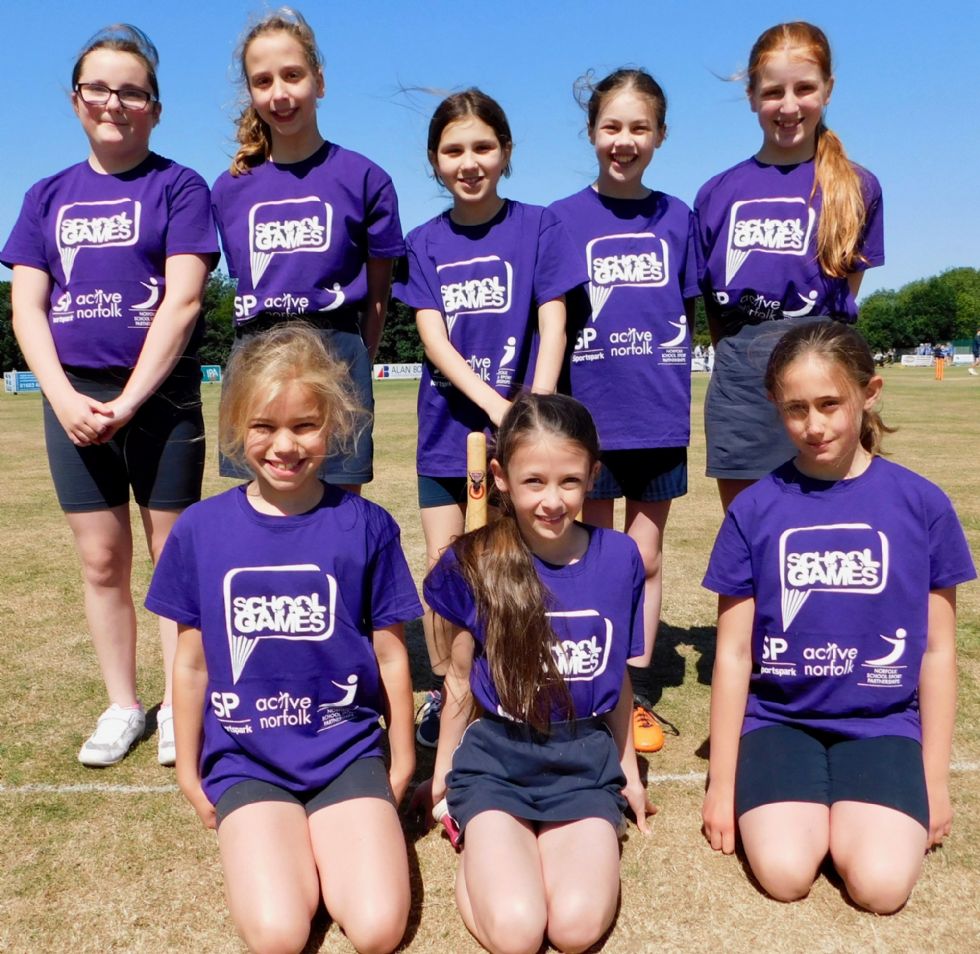 Kwik Cricket - girls
On Monday 4th June eight girls from years 5 and 6 competed in the West Norfolk School Finals for Kwik Cricket. There were eight teams involved in the competition coming from schools all over West Norfolk.
The competition was very tough with some very close and tense matches. The team were runners up in their group and went on to play St. Martha's in the semi-final. This was an incredibly tight match with there only being a few runs between the two teams at the end. Our girls played brilliantly and managed to win this semi-final, booking themselves a place in the final against Dersingham.
The final was another closely contested game where the girls made a really good effort. Unfortunately they did not win the final but finished the day as proud runners up. This performance has earned them a place at the School Games Finals in Norwich on June 22nd.
Well done girls!!
The team consisted of:
Hannah , Millie , Olivia , Keely , Sophie , Jennifer , Angel , Jemima .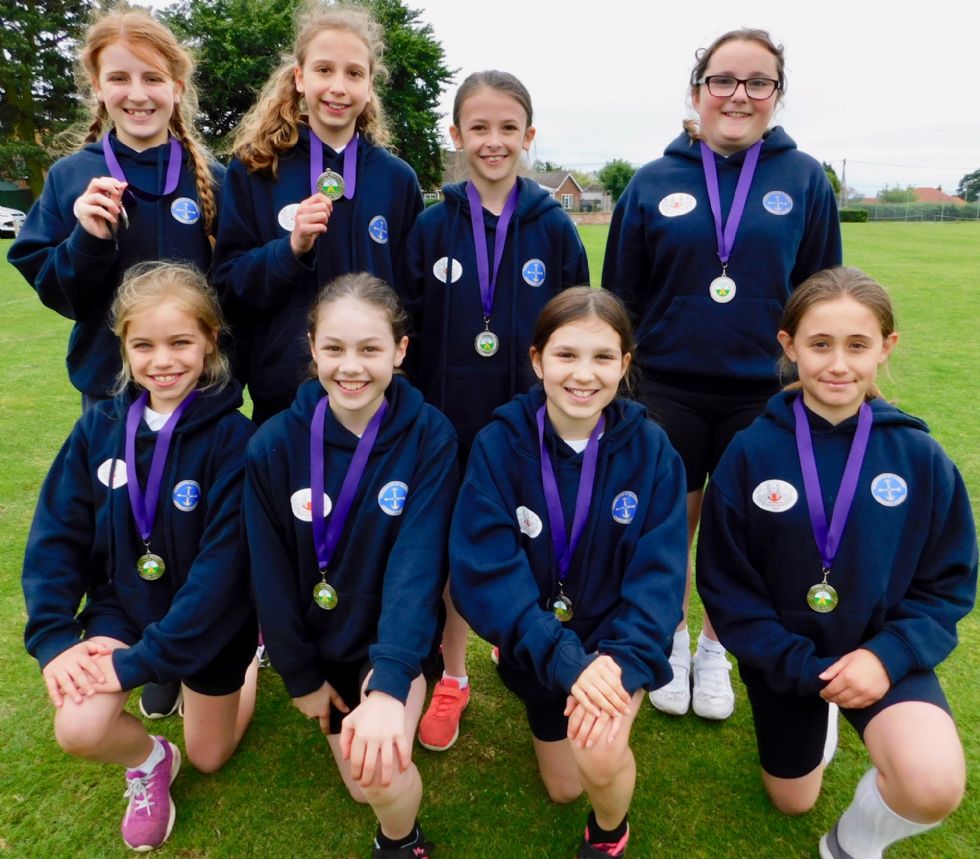 Kwik Cricket - boys
On Monday 21st May sixteen boys from years 5 and 6 competed in the cluster kwik cricket competition, taking on teams from Clenchwarton, West Lynn and Walpole Cross Keys. We fielded two teams, Hurricanes and Tornadoes. Both teams played exceptionally well with some great bowling and some superb catches when fielding. All of the boys tried their best and were great sportsmen on the day.
The teams were:
Hurricanes Tornandoes