Spelling, Grammar and Punctuation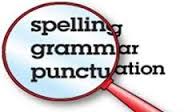 The teaching of spelling rules is planned for and delivered by KS1 and KS2 in line with the new National Curriculum.
In KS1 we use the bronze, silver and gold banded spellings and sentence dictations. Parents have a copy of the spellings and are encouraged to use these as practise materials at home. In KS1 pupils will be taught English: Spelling Appendix 1. At school these words are taught through flashcards accompanying reading books and daily phonics lessons and are tested as and when appropriate. Pupils will be encouraged to practise these at home as part of their reading homework and will be sent home as flashcards together with your child's reading diary and book.
Pupils in KS1 have daily phonics sessions in addition to daily literacy lessons. In these phonics sessions, Y1 make progress towards achieving the Year 1 phonics screening assessment and begin 'spelling, grammar and punctuation' when appropriate. Y2 use Assertive Mentoring materials for 'Grammar Hammer' and 'Attack Spelling' materials when appropriate.
In KS2 we use a spelling programme called Attack Spelling in school. Assessments take place during weekly lessons and in an ongoing way. A weekly homework sheet is sent home for the children to practise and learn. Advanced Attack is a continuation of the Attack Spelling programme. These lessons not only extend vocabulary but include the regular use of a dictionary and sentence construction.
In conjunction with the spelling programme, the pupils are also required to learn some other words and will be taught English: Spelling Appendix 1 as part of their daily literacy lessons. The word-lists for years 3 and 4 and years 5 and 6 are statutory. The lists are a mixture of words pupils frequently use in their writing and those they often misspell. The age appropriate list for years 3 and 4 or years 5 and 6 will be sent home at the beginning of the autumn term. Breaking the words on the list into manageable chunks should help with learning the 100 words eg.10 per week. The children will be assessed termly to assess progress with these lists.
None of the lists (Bronze, Silver & Gold, Y1/2, Y3/4, Y5/6) are intended to be tested weekly. Practise NOT test. However, appropriate checks will be undertaken to assess progress and where appropriate shared with parents.
Strategies to use at home to practise spellings:

Sound/tap out syllables

Look, say, cover, write, check

Make up mnemonics Eg: 'because' = (big elephant can always understand small elephants)

Use 'fun' pens and lots of colours

Write them out and display them at home….

bedroom wall, car, fridge door etc (Post-its, cards, paper etc)

Remember to look back over previous words each week.
Pupils in KS1 and KS2 will use Assertive Mentoring materials for Grammar Hammer.
For further information and ideas on how to support you child at home take a look at the following sections:
Reading EYFS to Y6
Reading Diaries EYFS to Y6
3 Stages of Writing
Phonics (EYFS & KS1)
Parent Information Evening Reading & Spelling 01.11.16