Year 1/2 David Bedford's visit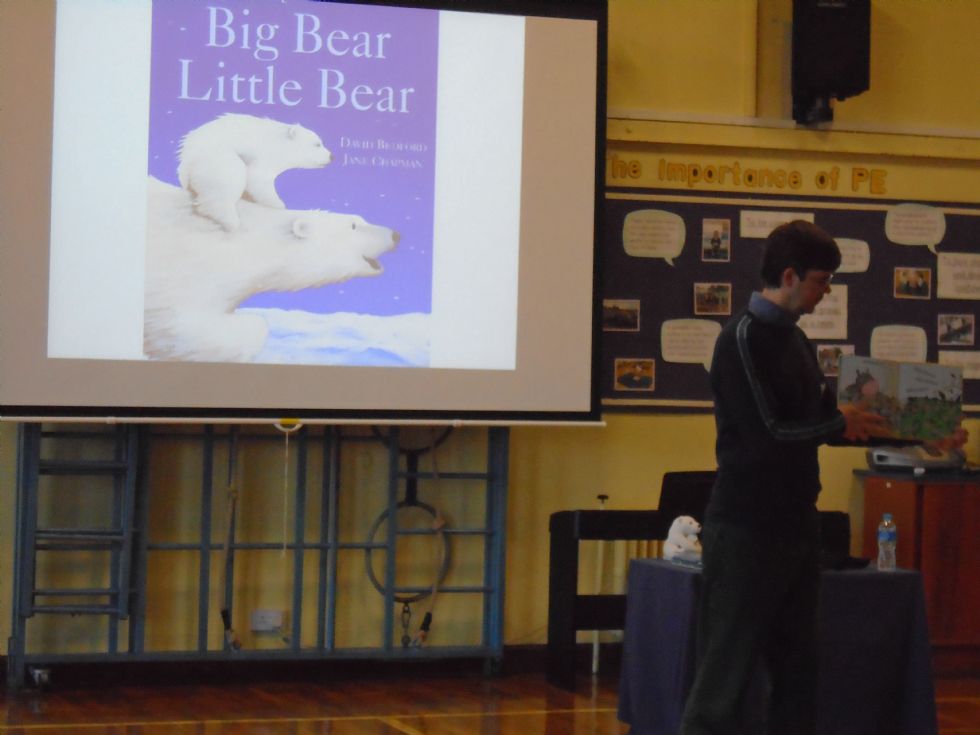 The author David Bedford cam to spend the day with Year 1/2 on Wednesday 23rd September 2015. The visit coincided with their topic Pole to Pole and one of David's books Little Bear Big Bear which the children had been looking at as part of their literacy.
The day started together in the hall where David shared with the children how he started to write his latest book 'Who's Laughing?' He explained on the way to take his children to school he heard a donkey braying and it started him thinking of a story. The children then started to think about why the donkey might have been braying. They came up with lots of amazing ideas such as the donkey was laughing, sad, in pain, calling out and having a baby! This also involved the children getting up and active with some of their ideas.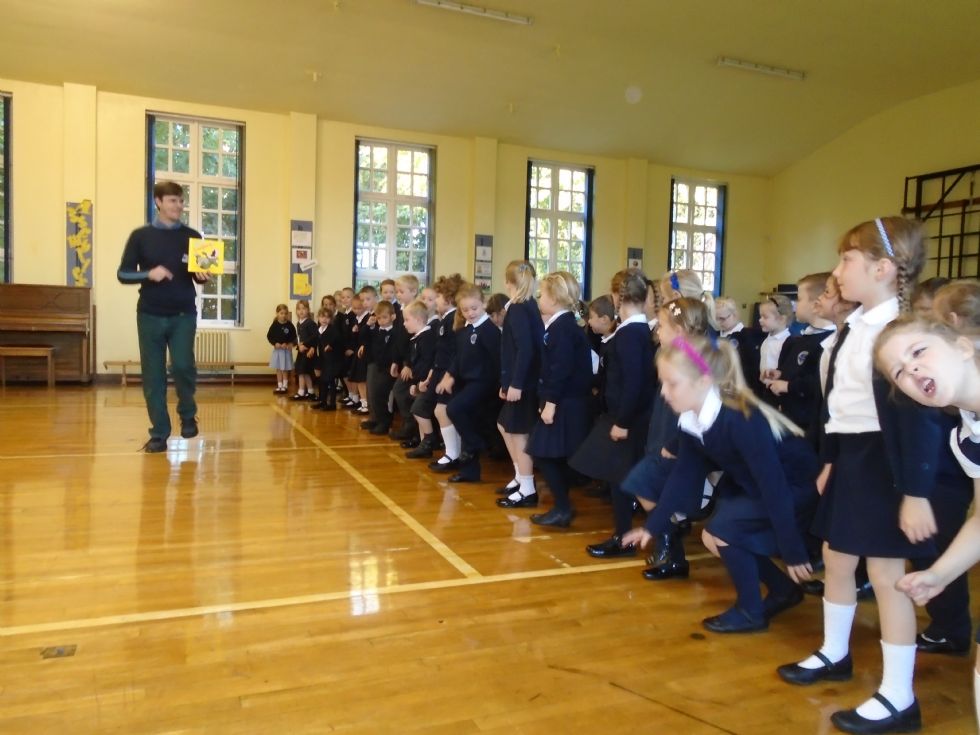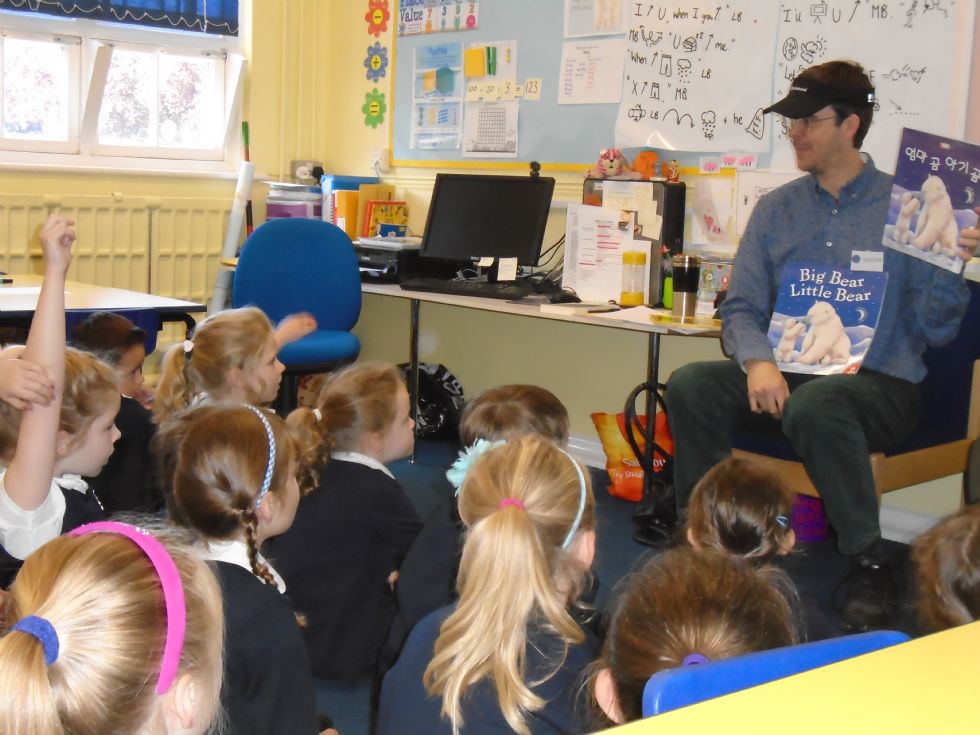 David then moved on to work with each of the 1/2 classes. He started in 1/2FC. The children in 1/2FC had lots of questions they wanted to ask David.
Where do you write? - Harry
What do you do when you are not writing? - Miley
Where do you get your ideas from? - Daisy
David read Big Bear Little Bear and he was surprised and pleased when the children joined in with actions and words from the text.
David linked in the children's knowledge of polar animals to start them thinking of a new adventure for Little Bear. They started by designing the front cover and thinking about their characters and the adventures they might have. Everyone came back together and started to share ideas and tell a class story. The children then went on to write their own stories after David left which have been sent home to share with parents.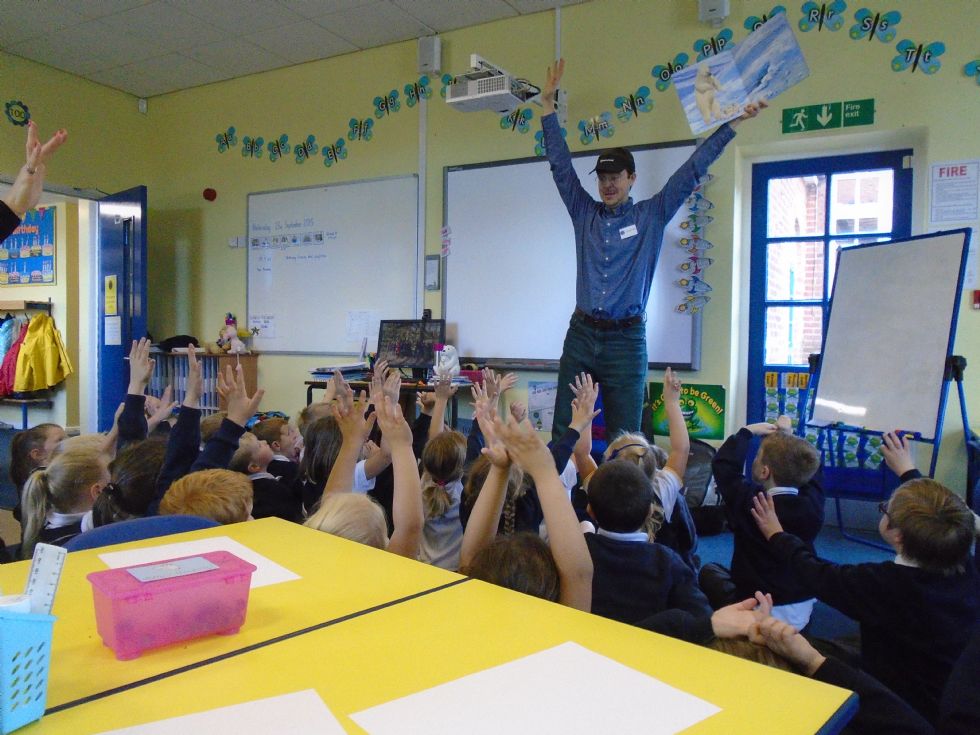 David then went to 1/2KR. They too shared the text Big Bear, Little Bear. They compared David's version front cover with Mrs Rose's and spotted the difference. David talked about how he writes a story and changes ideas to improve the story. The children then enjoyed another of David's books 'Knock, Knock!' This started the children thinking about their own adventures for Little Bear and they made a flap book as their starting point.
Mollie designed her flap book around the new character a tiger cub. 'It will come and visit the North Pole and stay with Little Bear in his cave.'
Jessica had a penguin, a monkey, a snail and a goose! 'The goose could burst.' 'The snail went in the cave.' 'The monkey climbed everywhere.' 'The penguin waddled around.' 'They all became friends.'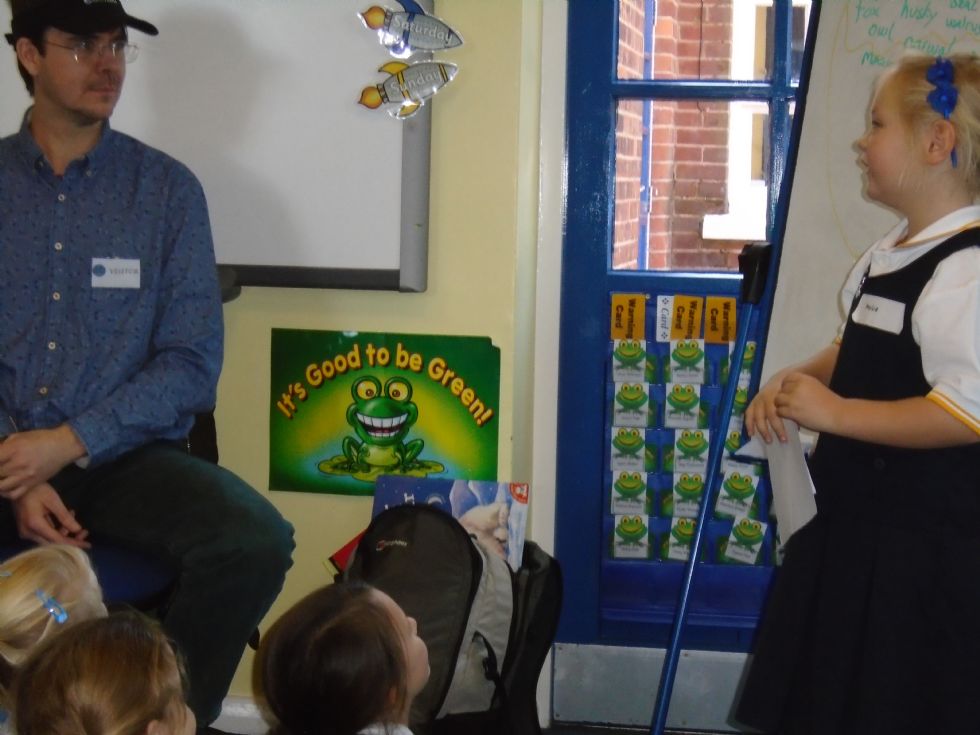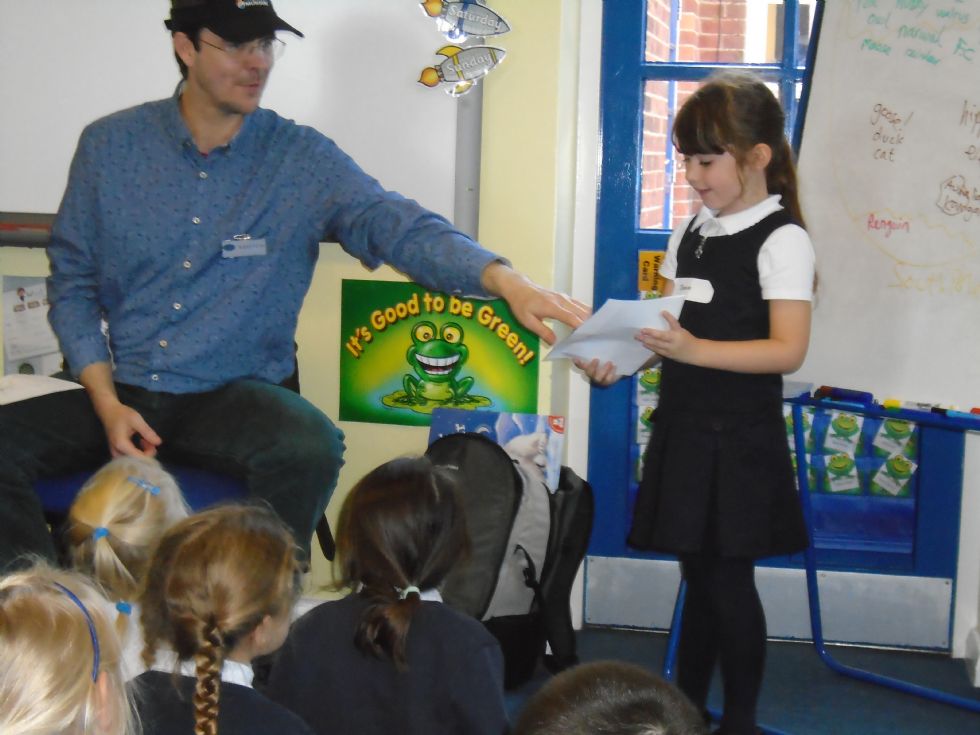 Harry had an elephant, a crocodile and a lion visit Little Bear. 'Can we have a sleepover? The animals asked.' 'Come in says Little Bear'. 'It's too busy so he asks them to leave.'
Anthony had a cat and a lion who go 'swimming and play computer games with Little Bear.'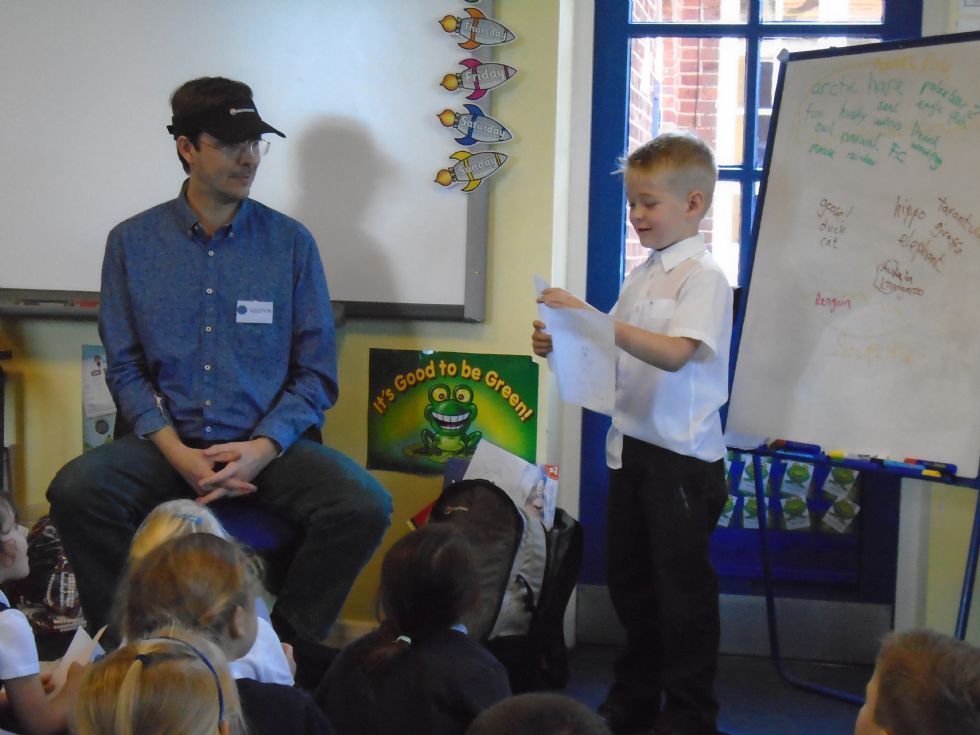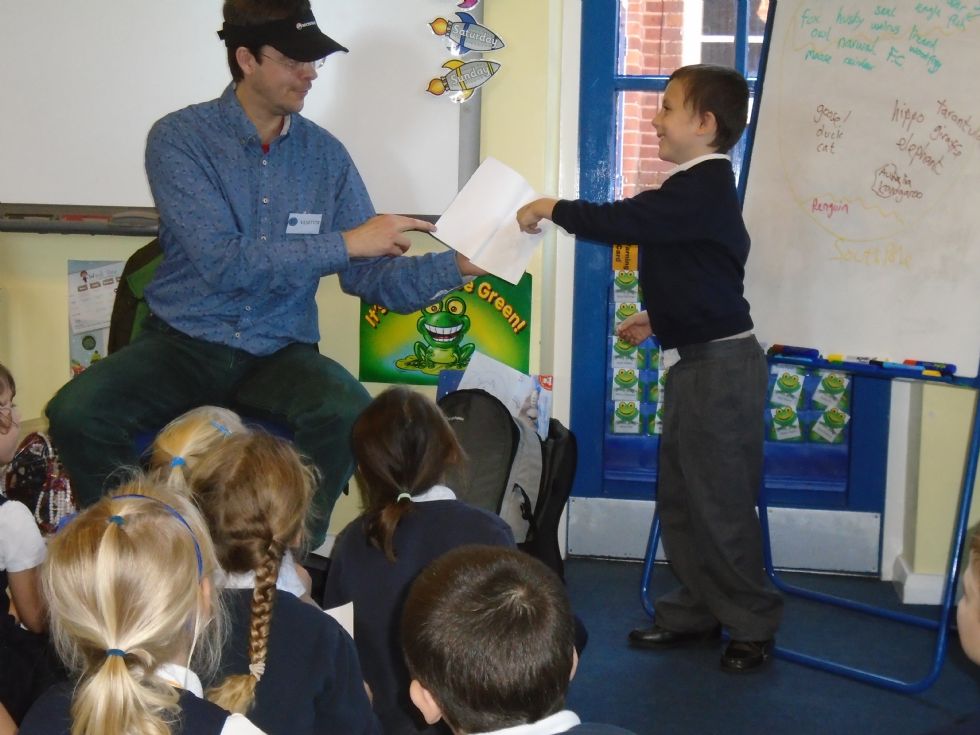 David spend the afternoon with 1/2RI. David shared with them another of his new titles 'Roo the Roaring Dinosaur'. The children then created flap books. When they came back together the children shared ideas and created lots of new adventures for Little Bear.
Leonardo 'Oliver the lion would go to see Little Bear. He would be cold and shivering and would go to sleep in a cave.'
Liam had written his name on the front cover just like an author would! He had even drawn scratches where the animals had scratched at Little Bear's ice cave.
Aaron had an elephant, a snake and a giraffe on her front cover. 'They stamp in the snow.' 'The giraffe shivers because he has cold feet.' 'Can we play another game?' 'They play lots of games but get cold.' 'They get dressed and feel much warmed.'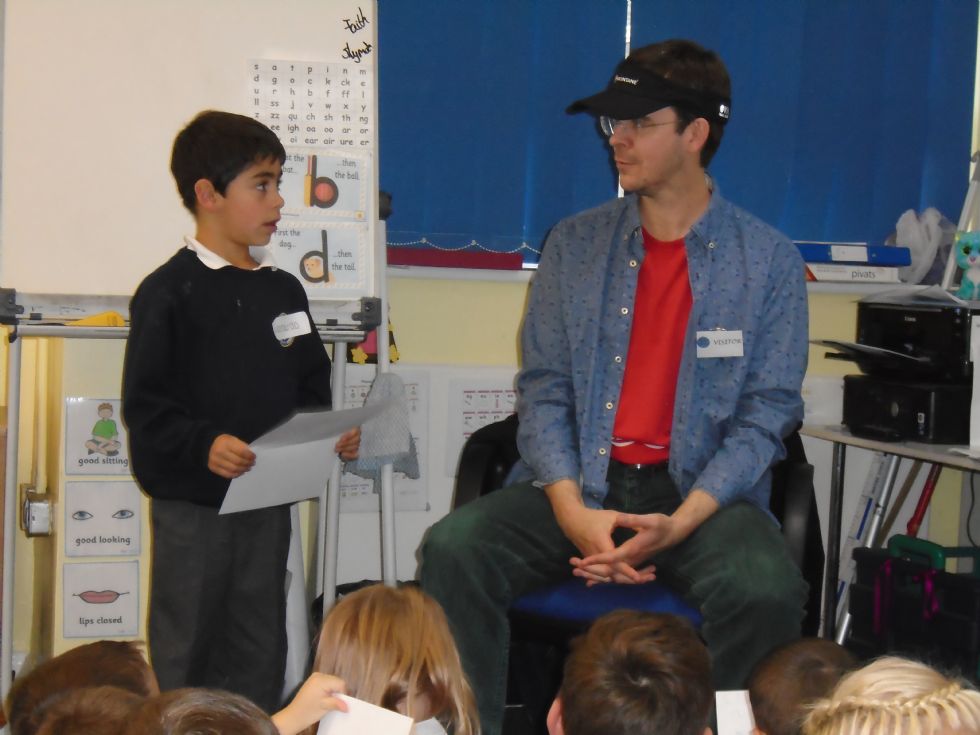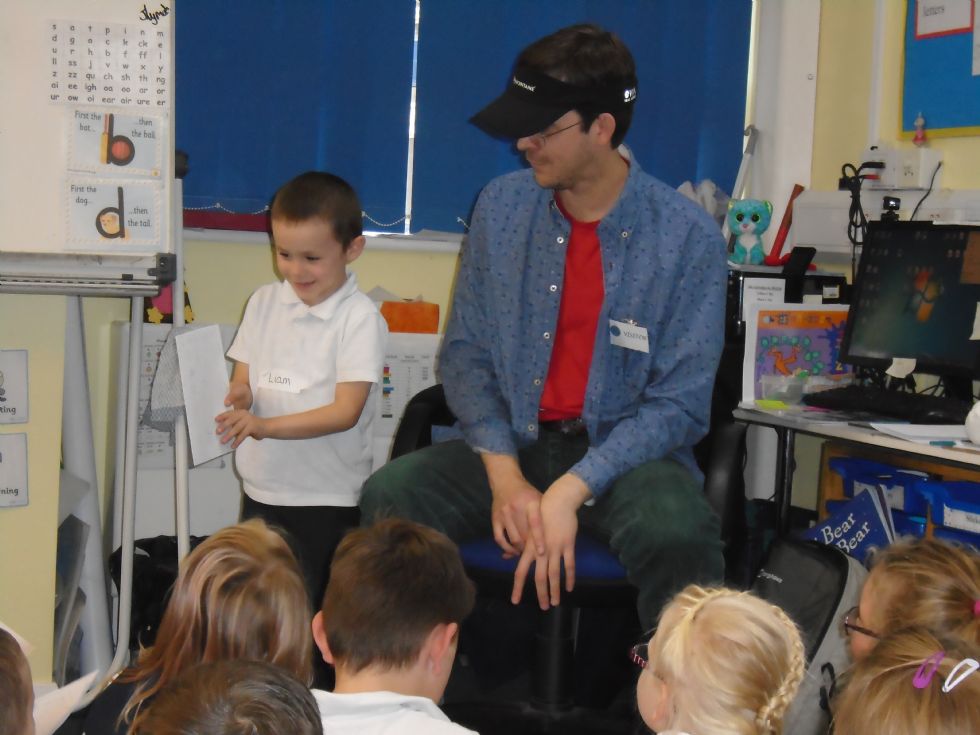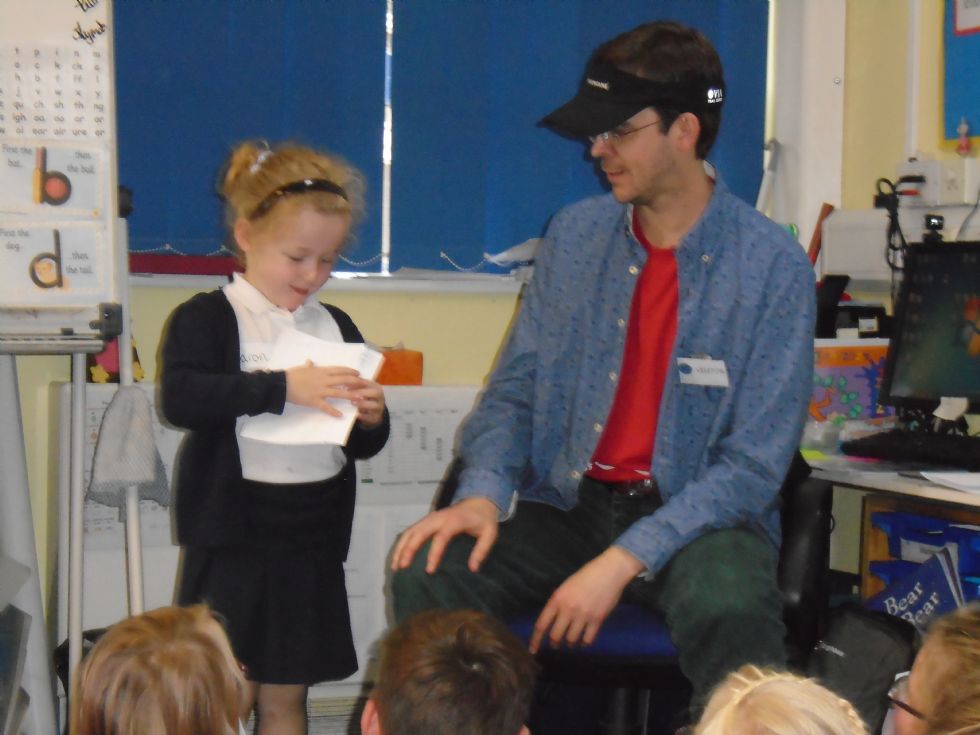 The day ended with an opportunity for parents to come in and see what the children had been doing and read their stories.
David had a book sale and signing so parents also got to meet him. The children were so excited so say they had met a real life author and thoroughly enjoyed the day!